CSKMS Items for Sale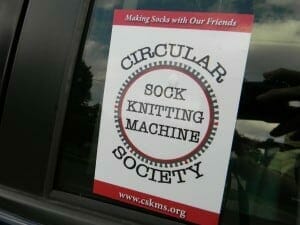 You're stopped at a red light.  The passenger in the car to your left is staring at your left side passenger window with a weird look on her face.  It says, "Circular WHUT?  Sock knitting, WHUT?"  As the light turns green, you speed up & chuckle to yourself, "YES!  It was sooooooo worth putting that decal on my car!"
CSKMS window decals, $5.00 each including shipping*  (Seriously, ya gotta have one, right?  Think how much fun that red light scenario will be!)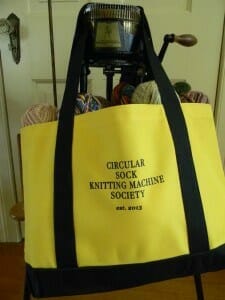 You need another bag like you need another hole in your head, right?  WRONG!  You need this bag to carry all that sock yarn to your next CSM crank-in or conference.  You ARE planning to crank out 7 pairs of socks in 3 hours, aren't you?
CSKMS 100% polyester, sturdy tote bag, $10.00 each including shipping* (Hey, can you say, "Esoteric hobby organizations?"  It's worth the wording alone!  You really need to carry this bag to your next Girls' Night Out**…especially if you're wearing your bumblebee outfit.)  (Only 1 bag is left as of August 22, 2016, and we don't plan to order more.)
We're easy….we take checks or Paypal payments, whatever suits you best.  Send checks to CSKMS, c/o Kathy Roletter, Treasurer, 651 Ott Street, Harrisonburg, VA 22801.  Be sure to write a note telling Kathy what you're ordering & how many of each.
OR
Send your payment through Paypal to kr2409@gmail.com.  Please put what you're ordering & how many of each in the comment box.  Be sure to label your payment as a gift to family or friends.  (Yes, Paypal allows this for nonprofit groups…we checked.)
* Oooops…disclaimer:  "including shipping" is continental USA only.  If you need this stuff shipped to Beijing or South Africa, email Kathy for a shipping quote at kr2409@gmail.com…thanks!
** Double oooops!  or Boys' Night Out for our guy members.  (Yes, we do have guy members…check the membership list if you don't believe us!)