Board of Directors, 2016-2017
The members of the Board of Directors for 2016-2017
Victoria Jicha, President & Newsletter Editor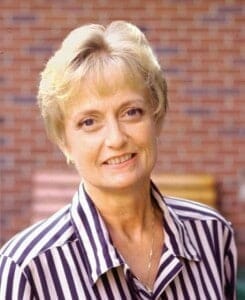 Victoria Jicha retired in 2011 from a professional music career that was diverse and extensive. It included performing and teaching throughout the Chicago area on flute and harpsichord, a 20-year position as Organist and Choir Director at St. David's Episcopal Church in Glenview, Illinois, and the publication of numerous orchestral works transcribed for flute choir. The last 10 years of her career were spent as Editor of Flute Talk magazine, a position that she used to move the magazine from targeting flute students to a publication for professional flutists and educators.
She earned the T.K.G.A. Master of Hand Knitting certification in 2008 and bought her first, and only, Erlbacher Gearhart sock knitting machine in 2012. She is President of the Bay Lakes Knitting Guild and Evergreen Quilt Guild, both Green Bay, WI organizations. She also loves baking just about anything from scratch, is a sourdough enthusiast, and wastes way too much time on Facebook.
Victoria's Ravelry avatar is victoriajicha.
Candy Terry, Vice President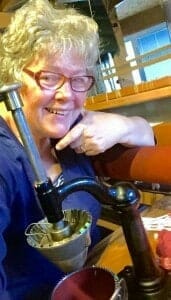 Candy's first memory of a CSM occurred in the eastern Kansas town of Ottawa in the late summer of 1961.
Early on a Saturday morning before the sweltering August heat set in, my Grand Dad and I went antiquing. Just inside an open storefront I found an old rusted 1920's Master Machine. My Granddad was surprised that I knew what it was and even more astonished that I thought it a fascinating treasure. Being born in 1900, My Granddad came of age during the Edwardian era. Though he was always a kind man, his vision for what a young lady's interests should be were decidedly Victorian. Though he gave into my demands for that machine it was clear he believed it was not a proper place to put my time "how was I going to find a proper husband if I was elbow deep in rust remover and smelled of gasoline?" As it turned out her high school sweetheart and future husband, Hank Terry, was a good house builder and an even better auto mechanic who found the aroma of gasoline perfectly normal.
Since that first CSM find, Candy continued her journey with fiber tools using flat bed knitting machines during the 1980s and weaving in the 1990's. Soon she returned to college to teach and complete her MA with the writing of her master's thesis on Navajo weaving production.
Candy and Hank Terry have lived in a northern suburb of Denver Colorado since 1978. Now in retirement, Candy uses her cranking time thinking up new things to make on a CSM or getting new CSM owners cranking. You can find much of her CSM wisdom freely shared on her YouTube videos and Blog at TheColoradoCranker
Candy can be found on Ravelry as weavecrankanspin.
Dara Wagner, Secretary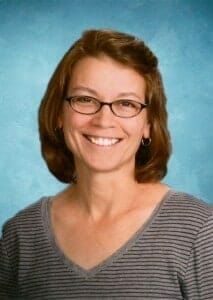 I was strictly a hand knitter before I heard about circular sock knitting machines from my friend in 2010.  After watching YouTube clips, I was hooked. With very little knowledge of what I was getting into, I purchased an Autoknitter on eBay. While I learned the basics from YouTube videos, I was ecstatic to find that the Genesee Valley Sock Machine Club had monthly meetings right around the corner from where I lived! Fred Hauck and other members of the club have been so helpful with tips, tricks, patterns and most importantly ribber timing! I reside in Fairport, NY with my husband Paul and our two children Honus and Ruthie. I teach reading at the Norman Howard School, a private day school for students with learning differences, and have done so for the past 30 years. Maybe one day I will be able to boast about cranking socks for equally as long!
Dara's on Ravelry as darawags.
Kathy Roletter, Treasurer
A retired elementary school teacher, Kathy lives in Harrisonburg, Virginia, with Ted, the love of her life, and her spoiled rotten geriatric cat Sydney.  Her son Nate is a Virginia state park police officer and manager of Hungry Mother State Park in Virginia, and her daughter Emily is a doctoral student at Temple University in Philadelphia & works internationally in global public health, most recently stationed in Nepal & Uganda.  Three adorable grandchildren get a lot of her attention:  Mara (13), Brady (10) and Ryan (8).
Kathy's been cranking since 2007 and owns 5 machines (they keep following her home!), but her first and favorite is her Home Profit Master Machine found in a Maine barn in 1994.  She produces socks for family and friends (whether they want them or not) as well as herself, and loves to attend CSM crank-ins and conferences.
Despite knowing virtually nothing about computers, Kathy is managing the CSKMS website.  She welcomes help & suggestions for improvements.  Seriously!
Other hobbies include European travel, excessive reading, hand knitting, sewing, almost any outdoor activity, and collecting antiques.  She is learning to spin, a process which is expanding her vocabulary of swear words.  She gardens in nice weather and cooks only when she absolutely has to.   She also volunteers part-time as an ambulance driver for Rescue40, her city's rescue squad.
Kathy's on Ravelry as kathycsmer.
Margaret O'Reilly Briggs, Member-at-Large
Like many of you, Margaret enjoys a wide variety of fiber and craft activities – knitting, spinning, weaving, beading, and cranking – and  has the stashes to prove it! Thanks to enabling from Kathy Roletter, she brought home a bin of parts from a crank-in a couple of years ago, and now happily cranks away on two antique Gearharts.
Margaret lives in Charlottesville, Virginia with her husband and fiber-friendly kitties. After a career in construction management, she has for the past 15 years worked with her husband performing business valuations for employee-owned companies.  Fortunately the family business has a flexible schedule, as she loves to travel to the John C. Campbell Folk School for workshops, is 2016 president of the Albemarle Handweavers Guild, coordinates the Whirling Whorls spinning group, and is on the board and coordinates crafts demo volunteers for the Fall Fiber Festival of Virginia held in Montpelier Station, Virginia each October.
Sheryl Campbell, Member-at-Large
Carol Gursslin, Ex-Officio Member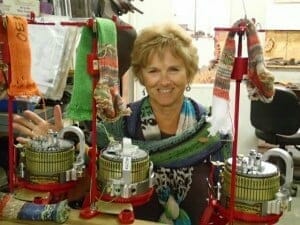 Carol hails from Hilton, NY, and has been crankin' since 2011. She is a member of the Genesee Valley Sock Machine Club. "Without the help of experienced CSMers, my first pair would still be a ball of yarn. By helping one another, we cannot help but improve."
Carol chaired our 2014 conference in Geneseo, NY, and is serving her second year as CSKMS president, 2015-16. "Our membership is thriving, and I will do my best to lead our Board of Directors towards continuous growth as we strive to meet the needs of all CSKMS members."
With her, Carol brings experience in nonprofit organizations. She served as coordinator of the first annual Hilton Apple Fest, followed by seven years as a Board member and public relations chair. Carol chaired the Hilton Centennial committee, "a yearlong party of monthly events celebrating local history." And her most memorable years were spent as her Baptist Church Girls Guild leader "when [she] watched [her] daughter and friends blossom into the wonderful women they are today."
When she is not crankin' on her Erlbacher Speedster or Legare 400, Carol– a retired high school English teacher–wiles away the hours hand-knitting and sewing at Amelia's Fabric and Yarn Shoppe. She leads a Read&Knit group there and teaches three classes: thrummed mittens, Ravelry for beginners, and yarn dyeing.
A mother of two and "doting" grandmother of four, Carol also enjoys reading, writing, gardening, the annual return of their purple martins, Mahjong, "all things primitive" and traveling. With husband Larry, she has enjoyed nine home exchanges in the U.S. and Canada.
You can find Carol on Ravelry as cgurssli.
Board of Directors, 2015-2016
Carol Gursslin, President
Candy Terry, Vice President
Dara Wagner, Secretary
Kathy Roletter, Treasurer
Victoria Jicha, Member-at-Large & Newsletter Editor
Margaret Briggs, Member-at-Large
Fred Hauck, Ex Officio
Board of Directors, 2014-2015
Carol Gursslin, President
Betty Cowin, Vice President
Sharon Lesio, Sheila Trunzo, Dawn Helstrom, Secretary
Kathy Roletter, Treasurer
Victoria Jicha, Member-at-Large & Newsletter Editor
Marty Wieferich, Member-at-Large
Sharon Lesio, Member-at-Large
Fred Hauck, Ex Officio
Board of Directors, 2013-2014
Fred Hauck, President
Carol Gursslin, Vice President
Kathy Roletter, Secretary & Acting Treasurer
Marty Wieferich, Treasurer
Betty Cowin, Member-at-Large & Newsletter Editor
Marty Wieferich, Member-at-Large